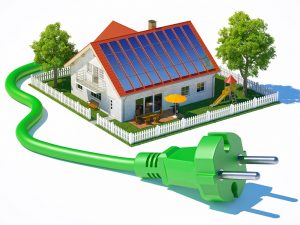 2017 is officially behind us, and with the new year comes new opportunities for improvement: personal improvement, professional improvement, home improvement, and more. You may already know that The LeverEdge provides complete water treatment solutions for homes and businesses, but did you also know that we are experts in solar photovoltaic (PV) systems, too?
Adding a solar power generation system to your home or business can help offset the cost of electricity you consume, and installation is quick and easy with the experts in your corner.
It can be overwhelming to think about exactly how you might go about adding solar to your building. You probably have a lot of questions, including:
"Where do I place the solar panels?"
"How is the wiring routed throughout my building?"
"How large of a panel array do I need?"
"How much solar can I afford?"
"Do I need to hire a third party to do the installation work?"
"How much will I actually save on my power bill every month?"
A lot of the answers to these questions can be addressed with a quick phone call. And, because you're dealing with proven professionals who know solar PV inside and out, you don't have to worry about getting your information from an untrusted resource. We have helped hundreds of customers realize their vision of having lower power bills and being more environmentally responsible by adding solar to their home or business. We can do the same for you!
When you think about the projects you want to take on in 2018, why not consider a new solar power generation system? The benefits are clear and the risk is virtually nonexistent. What's more, the cost to go solar is lower now than it has ever been, due in large part to the massive drop in manufacturing costs of solar PV modules. Taking advantage of these low costs results in an even shorter cost recuperation timeline.
If you're curious about how to go about adding solar to your home or business, contact The LeverEdge today and inquire about our all-in-one solar kits, which include PV modules, mounting systems, inverters, wiring and more. Lastly, we have the technical expertise required to ensure a successful installation, whether it be for a small, single-family home or a large industrial building. Get in touch with us today!