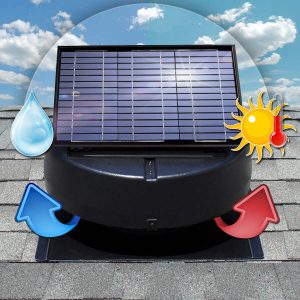 Solar attic fans are a great way to increase the efficiency of your home or commercial building. The biggest benefit of installing solar attic fans may seem obvious – circulated air means lower cooling costs. Granting this, you may find yourself thinking, "Why not just get the least expensive solar attic fan on the market? They all perform essentially the same function." In this week's blog post, we're going to address these questions head-on, with some key selling points for the Venti Solar Attic Fan from The LeverEdge.
If you were to opt for the cheapest solar attic fan available, you would probably end up with a product that was constructed with a plastic resin housing, inferior wiring, and a less-than-ideal solar module. Also, you may end up with a solar attic fan that isn't as powerful as your building may need. There are many wattage options available for solar attic fans, and the Venti model available from The LeverEdge has four different wattages: 12, 24, 36 and 60. The right wattage for you will depend on the volume of air inside your building, and where the solar attic fan will be mounted.
Beyond having a broad product offering, the Venti solar attic fan also stands out from the competition because of its quiet motor and protective screen. These two features alone mean your solar attic fan will operate noiselessly and not allow debris or small animals access to the interior of the building. Also, the balanced fan blades mean there won't be skipping or whirring because of contact being made with the interior of the fan cage. Lastly, the biggest benefit of the Venti solar attic fan is its independent operation: there's no power draw! The solar module provides all the power necessary to keep the fan working.
As you can see, there's a lot to love about the Venti solar attic fan from The LeverEdge. Contact us immediately to learn more about how you can put this incredible technology to work for you – installation is easy, and we guide you through every step of the process, from the site selection to the ongoing maintenance, if required. When you work with the energy efficiency professionals at the LeverEdge, you can rest well knowing you have the most knowledgeable staff in the industry in your corner. Start offsetting your heating and cooling costs as soon as next week! Get in touch with our team today.