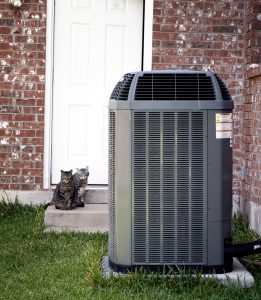 There's a lot to love about the new and improved GulfStream HI-5 Series Heat Pump available now from The LeverEdge. The designers and engineers at GulfStream set out to create the most user-friendly, reliable, and efficient swimming pool heat pump on the market, and with the new HI-5 series, they've done it.
For starters, the unit sports a 4-sided evaporator coil. This results in a smaller footprint and a more efficient product that is able to keep warm water flowing throughout the pool, even in cooler weather. Also, because the fan and moving parts are engineered to operate as silently as possible, the entire heat pump only produces around 56 db of sound when operating. The professionals who study industrial noise output place this sound level somewhere between a quiet conversation and soft background music. Compared with older models, this is a very welcome improvement indeed.
Going down the list of product features and benefits of the GulfStream HI-5 Series Heat Pump, we cannot ignore the industry's best warranty for heat pumps, a 5-year manufacturer's warranty on labor, and a 10-year warranty on parts, direct from the factory. This should give anyone confidence in selecting this heat pump as the last heat pump they may ever need to buy. Rounding out the list of features and benefits is the HI-5 Series Heat Pump's ability to be interconnected with other automation hardware and software. This means that for those who want to enable smart home functions (remote management and monitoring), this heat pump fits the bill. We can even help guide you through the setup and configuration process!
Understanding our customer's needs and creating a custom solution to meet those needs is what The LeverEdge does best. In the case of swimming pool heat pumps, we believe we have partnered with the best and brightest in the business, allowing us to bring top-tier heating products to you with the service and support you've come to expect from us. If you're interested in seeing a quote for a swimming pool heat pump like the new GulfStream HI-5 Series Heat Pump, contact us today. We're always eager to work with customers who want the most comfortable, reliable and affordable pool heating system possible. We look forward to hearing from you!