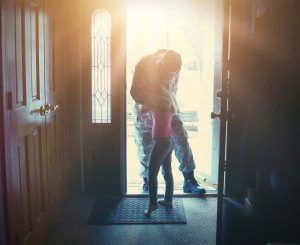 At The LeverEdge, we are passionate about whole-home water treatment, resulting in the highest grade water purity and most ideal water conditioning available today. Our passion is fueled by our customers, who enjoy the many benefits of clean, pure water without having to overcome serious challenges in accessing it. Because water is relatively easy to access in our daily lives, we tend to take it for granted.
But consider how difficult it might be for a disabled veteran to navigate the kitchen, bathroom, or another area of water consumption. How important would good water be for them? Since 2013, The LeverEdge has partnered with a charity known as Homes For Our Troops, or HFOT, whose mission is to build specially adapted homes for our severely injured veterans. You can read more about this great organization and the champions behind their cause here: https://www.hfotusa.org/. You don't have to be ex-military to appreciate the sacrifices that these men and women make, which is why we're so proud to be involved in the HFOT legacy of giving back to our troops.
When injured military personnel return home from combat, often they are wounded badly enough to require them to have personal assistance or medically adapted living spaces. This is done to accommodate the special physical needs incurred during their service to our country. In an effort to make their lives easier, HFOT provides living quarters outfitted with water treatment hardware donated by The LeverEdge. The result is a much-needed resource – water – cleanly and purely delivered to the point-of-use. This kind of attention to detail in designing a living space takes into account multiple health factors: home health, appliance health, owner health and environmental health.
Because of the massive impact that the kind people at HFOT have, we feel privileged to be able to involve our dealers in the donation process, too. They can elect to have a determined percentage of their sales directly allocated to the HFOT charity. At the end of the day, we want to make lives better through the efficient delivery of water to consumers wherever they may need it. When our wounded veterans return from conflicts overseas, The LeverEdge is there to help in the way we know best: providing the best water possible.